浙江6+1软件:Jimmy Savile abuse: Leeds General Infirmary staff 'horrified'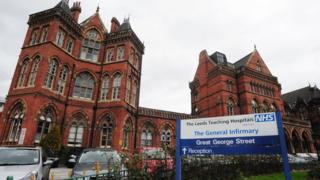 A Leeds hospital has reacted with "revulsion and horror" at the scale of abuse by Jimmy Savile.
A report into abuse by Savile said 60 people, including patients and staff, had been abused at the Leeds General Infirmary (LGI) over 50 years.
The head of the trust which runs the LGI, Julian Hartley, said he was "profoundly shocked" at the findings of reports overseen by Kate Lampard QC.
Mr Hartley said he was "truly sorry" the abuse had happened.
'Clever and manipulative'
"My first reaction when reading this report is one of tremendous sadness that this was allowed to happen," Mr Hartley said.
"We were badly taken in by a clever and manipulative individual. We let our guard down and people came to harm.
"We will derive every ounce of learning from this report. In doing so we will honour Savile's victims who were brave enough to expose the truth".
Lesley McLean, divisional manager for Victim Support in West Yorkshire, said the scale of the abuse at the LGI was "unprecedented".
Mrs McLean said Victim Support had worked with the team running the inquiry into Savile's activities.
"I've worked around the field of rape and sexual assault for the last 25 years and I've certainly never experienced anything like this," she said.
"It was like a dam bursting, something came out and then, suddenly, there was so much more coming out."
'Parental guilt'
One of Savile's victim's told BBC Radio Leeds she felt "ridiculously stupid" about her abuse in Leeds when she was 16.
"I didn't think I was that naive and you try and analyse and think 'could I have done anything differently to stop it' and to this day I really don't think I could have done."
Victim Support said many of the victim's families had also been affected by Savile's abuse.
Mrs Mclean said: "For example, if they introduced their child, who's in hospital, vulnerable, to Jimmy Savile thinking that this might be a nice treat for them while they're in hospital.
"Then the guilt those people have experienced about putting their children through that is huge."
Reports into Savile's activities at other hospitals in Yorkshire have also been published:
The Mid Yorkshire Hospitals NHS Trust investigated allegations of abuse at hospitals in Dewsbury and Wakefield.
York Teaching Hospital NHS Foundation Trust looked at an allegation concerning Whitby Memorial Hospital.
The Hull and East Yorkshire Hospitals NHS Trust's report into allegations of abuse at the former De la Pole Hospital ruled out any abuse.