Main content
2018年开奖记录表:Why these monks made Bradford their home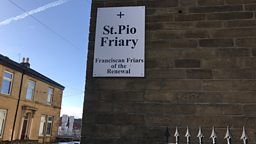 Bradford might not be where you expect a group of Franciscan Friars to be living, but since 2005 an order that originally formed in New York, set up St. Pio Friary in the city.
The six monks rely on donations from the public to feed themselves and run a regular soup kitchen. BBC Radio 5 Live presenter Nihal Arthanayake went to meet them and hear their stories.
This article contains some descriptions of drug use.
'Everything in the friary is donated'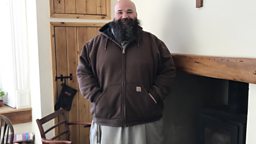 Father Giles is from Chicago. He has been at St. Pio Friary for one and half years.
"I've been a friar almost 13 years, I joined [the brotherhood] in 2006 and I've been a priest a year and a half. So I came here for my first assignment as a priest.
"When I was a teenager, sport was very important in my life. I was an American football player. It was my dream to be a history teacher and an American football coach, but God had other plans.
"We get two weeks every year to go visit family.
"When I first came home after I took the habit and got the big beard, that was when I got the questions like: 'What do you do?' 'What is this all about?' Now everybody definitely knows. I was actually back in Chicago a couple of months ago to see my family; a cousin of mine was married and I did the wedding.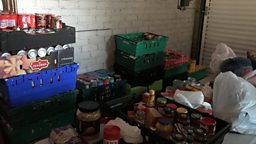 (The food for the regular soup kitchen is donated to the friary by local schools and businesses)
"I've been here about a year and a half. We opened this place in 2005 so I knew we had a house in Bradford, but I'd never come here. My superiors in New York asked if I wanted to come to Bradford. We live this life of obedience [about] where we're sent, so they asked me, I was more than happy to come here.
"Everything in the friary is donated - food for the poor, our food - everything we use is begged for. People are very generous. Sometimes you run low on certain things so you can't get exactly what you want all the time but as far as being without food, there's always pasta and there's always rice."
'The way I'm living now is completely opposite to the way I was living'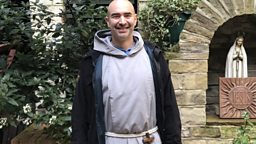 Brother Benedict is from Manchester. He took his vows 20 years ago this year and has been at St. Pio Friary since 2006.
"I was into the Acid House rave scene. Drugs and sex, it all went hand in hand, you couldn't have one without the other. I enjoyed it at the time.
"I took ecstasy, MDMA - I thought 'wow, it's going to change my life' and it did, for the wrong ways. When I think back it was dark times."
"I just wanted to be loved for who I was, but because I wasn't, I had to be someone else. I had to put masks on. I had to be the man who could rob, the man who could take all these drugs. I wasn't who God intended me to be, I was what everybody expected me to be.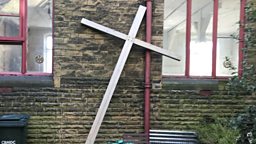 "I've always believed in God. I worked in Germany for a year in a half, laying bricks and I always put a crucifix by my bed.
"I always brought a Bible with me wherever I was. Maybe it was a distorted image, but I always believed God was there for me, even in the madness. God can make the impossible, possible.
"Poverty, chastity and obedience - those are the three vows I live by. I don't want to be enslaved by the passions; I want to live in freedom, in Christ. The way I'm living now is completely opposite to the way I was living.
"I've been doing this for 20 years, but it's not easy. I struggle because I've tasted the madness and everything but I always go back to God to ask for strength. It's a daily struggle, but I want to be in the struggle. As much as it's hard, I wouldn't want to change it for the world."
'There's no way we could do this without one another'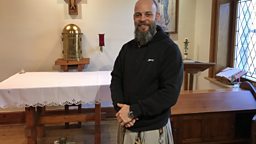 Father Gabriel is the Friary Superior at St. Pio's. Originally from Canada, he came to Bradford five years ago from New York.
"I was initially sent to Ireland first. I got called into our General Superior's office and he said 'Father Gabriel I need you to go to Bradford' and I said 'Bradford? I've got my plane ticket to Limerick already, everything's organised, I'm leaving in two weeks'.
"He said 'that's fine, go to Limerick for the summer then, but I need you in Bradford by September. Things have changed and that's where I need you to go'.
"One of the biggest challenges for me is the absence of having a family. I just turned 40 last year and one of my friends asked me how I was doing and I said 'I just want kids, Ben!' It's an ongoing struggle.
"There are a lot of things we give up when we give our lives to God. There's a pain there, there's a sacrifice there, but I'm finding that God is showing me where my life is bearing fruit in other ways.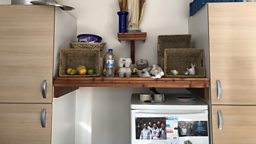 (The six monks share a kitchen)
"We're always working on communication here in the friary. Growing up, you don't learn 'this is how men talk to each other, this is how men communicate, this is what you do when your stuff is all over the place'. Trying to work together, live together, nobody tells you this stuff. So we try and figure it out.
"In the middle of that fraternal life, a guy might get transferred and a new guy comes in. It's heart wrenching. There's a trust that grows and when a new guy comes in, you have to start again. But there is no way we could do this without one another."
"Our neighbours are a great Muslim family across the street. We're learning a few words of Urdu and the father's learning English so we're having great conversations now.
"It's just a matter of patience and understanding.
"With the beard and the moustache, we certainly blend in here in Bradford. People kind of get a bit curious because they see the crosses hanging off our ropes.
"We don't look like we're from Pakistan so they say 'wait a minute you look Muslim, but are you Muslim?'
"I see it as another opportunity to share."
See more from BBC Radio 5 Live.
Beth Rylance describes how a social media follower started stalking her.

5 Live visits the Lammas community in Pembrokeshire.

Six things you didn't know about a condition which leaves people without a 'mind's eye'.